September 25, 2021
 Honor the Past. Ignite the Future.
The Winston-Salem Symphony will perform a one-hour program in Hanes Auditorium at 6 p.m. The program will feature "Gaudeamus," a composition by Margaret Sandresky A'38 C'42, commissioned for the occasion. Margaret Sandresky, a beloved alumna and retired professor of music, will celebrate her 100th birthday in 2021. The concert will be live-streamed and will include a pre-recorded video "interview" with Mrs. Sandresky by Winston-Salem Symphony Music Director Tim Redmond, along with highlights of her life.
Following the concert, guests will move to the dinner and dance in Corrin Refectory. Cocktails will be accompanied by light music, and during the dinner, there will be fun presentations highlighting the past and future of Salem Academy and College.  The presentations will be very upbeat and entertaining. After dinner, we will hit the dance floor with a live band.
Alumnae who cannot attend in person are encouraged to host their own "Celebrations of Salem" on the same night wherever they are. If possible, we will connect them with the guests in the Refectory via live stream for toasts to Salem!
Watch the Concert Live Stream
250th Concert Venue
Hanes Auditorium Seating Chart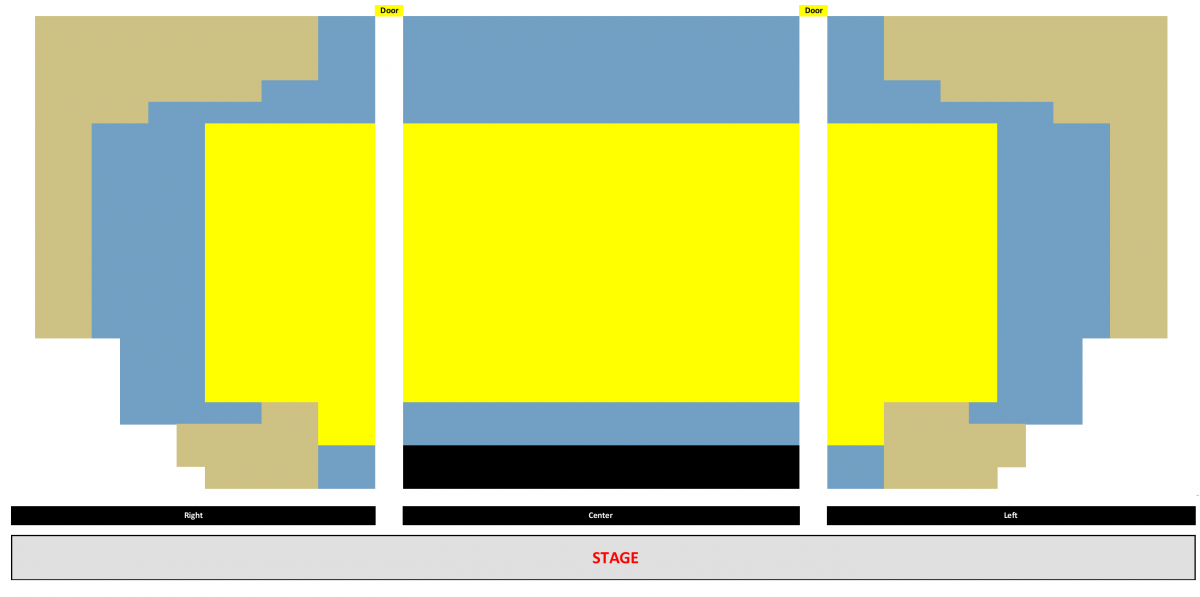 Yellow = Gold Section
Blue = Silver Section
Beige = Bronze Section
Please select a section for your ticket purchase. Your seat assignments will be sent to you by email from salem250kickoff@gmail.com within seven days.