September 28–October 26, 2021
Image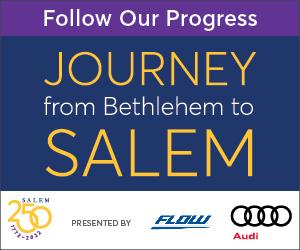 Join us or follow us as we recreate the journey undertaken by the Single Sisters from Bethlehem, Pennsylvania to North Carolina. The Journey will cover 500 miles over 29 days and will follow the historic route as outlined in the 1766 journal of Salome Meurer—along the colonial migration trail, which passes through Maryland, continues east of the mountains in Virginia, and turns west in Hillsborough, North Carolina.
Walkers will arrive in Bethabara, North Carolina, the Sisters' original destination, on October 25.  The final leg of the Journey will be 6.5 miles from Bethabara to a celebratory Homecoming on Salem Square on the afternoon of October 26, which will be open to all. Alumnae and friends are invited to participate in any part of the "Journey to Salem" in person or virtually. Watch your email for opportunities to sign up, train, or participate in your own location.
Walker Information Sheet (Google Doc)
Image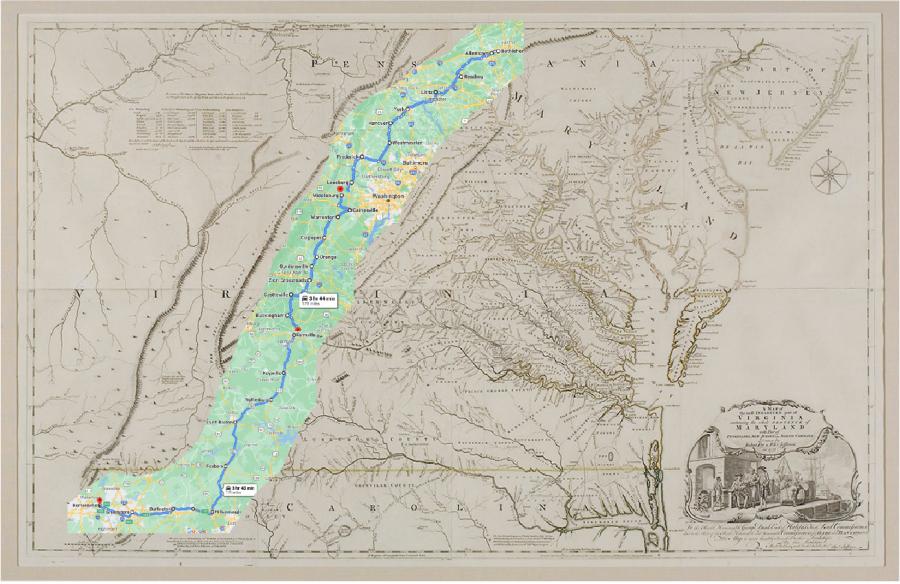 Register Now for the Journey to Salem
Welcome to Journey to Salem registration!
How to Register
To register, you will select each day, or "leg", that you will walk.  For example, if you plan to walk the entire route, you will check 29 boxes, each box representing one leg.  Or you can walk just  leg 1, or legs 5, 6, and 29.  Any combination is fine!
On average, we will walk 20 miles per day, but there are a few days where the distance is between 6 and 15 miles. Please note that daily mileage listed on the registration form is approximate and subject to change slightly.
Virtual Participation
Join us virtually if you can't walk with us in-person!  Virtual participation can include any form of measurable aerobic exercise such as walking, swimming, running, biking etc. Virtual participants are encouraged to complete as many miles as they can between September 28 and October 26.
Journey Website
For detailed journey information, for walkers and to keep track of the journey, please see our Journey website at journey.salem.edu.
Registration Fee
Non-refundable registration fee is $35 for in-person and $25 for virtual.  Fee is waived for current Salem Academy & College students, faculty and staff. If you plan to walk in person for one or more days and also virtually during the month, please pay the in-person registration fee of $35.
Support
If you can't join us in-person or virtually but would like to make a contribution to the Journey or support a student, faculty or staff walker, please click on Support below.
Lodging
The Journey Team has blocked hotel rooms along the route.  You are responsible for reserving and paying for your room.  Space is limited so please reserve your room(s) early!
Journey to Salem - Hotel Reservation Sheet
Journey to Salem - Hotel Reservation Map
Registration Deadline
The deadline for registering is September 7, 2021.
Waivers
You must sign a waiver form in order to participate (in-person only).  Please print and sign where indicated. Be sure to select the appropriate waiver form:
Under 18*
*Due to a variety of road conditions, no strollers are permitted
Scan and email to: holtmorris@gmail.com 
OR
Mail to:  Salem Academy & College, 601 S. Church St., Winston -Salem, NC 27101 ATTN: KATHERINE WATTS
Train and track your miles
Download the free Strava App and Join the Salem 250 Journey Club.
Journey to Salem Hotels Map
Downloads
Journey Leg Distances
Bethlehem, PA to Allentown, PA (9-28-21, 14 miles)
Allentown, PA to Reading, PA (9-29-21, 20 miles)
Reading, PA to Lititz, PA (9-30-21, 19.4 miles)
Lititz, PA to York, PA (10-1-01, 21.6 miles)
York, PA to Hanover, PA (10-2-21, 21.6 miles)
Hanover, PA to Westminster, MD (10-3-21, 18.7 miles)
Westminster, MD to Frederick, MD (10-4-21, 20.3 miles)
Frederick, MD to Leesburg, VA (10-5-21, 20 miles)
Leesburg, VA to Middleburg, VA (10-6-21, 15 miles)
Middleburg, VA to Gainesville, VA (10-7-21, 17 miles)
Gainesville, VA to Warrenton, VA (10-8-21, 14 miles)
Warrenton, VA to Culpeper, VA (10-9-21, 21 miles)
Culpeper, VA to Orange, VA (10-10-21, 20 miles)
Orange, VA to Gordonsville, VA (10-11-21, 5.8 miles)
Gordonsville, VA to Zion Crossroads, VA (10-12-21, 15 miles)
Zion Crossroads, VA to Scottsville, VA (10-13-21, 18 miles)
Scottsville, VA to Buckingham, VA (10-14-21, 19 miles)
Buckingham, VA to Farmville, VA (10-15-21, 20 miles)
Farmville, VA to Keysville, VA (10-16-21, 19 miles)
Keysville, VA to Wylliesburg, VA (10-17-21, 17 miles)
Wylliesburg, VA to South Boston, VA (10-18-21, 22 miles)
South Boston, VA to Roxboro, NC (10-19-21, 20 miles)
Roxboro, NC to Hillsborough, NC (10-20-21, 20 miles)
Hillsborough, NC to Mebane, NC (10-21-21, 13 miles)
Mebane, NC to Burlington, NC (10-22-21, 15 miles)
Burlington, NC to Greensboro, NC (10-23-21, 22 miles)
Greensboro, NC to Kernersville, NC (10-24-21, 16 miles)
Kernersville, NC to Bethabara/Winston-Salem, NC (10-25-21, 17 miles)
Bethabara to Salem Square (10-26-21, 6.5 miles)